Christmas In The Park/Holiday Lighting Contest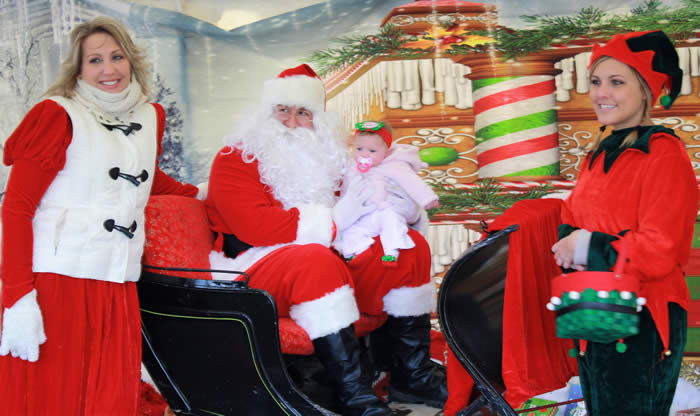 Favorable weather conditions brought many families and friends out for an event-filled Saturday afternoon, December 2nd , at Christmas in the Park. The Alden Substance Abuse Coalition took pictures of little ones sharing their toy lists with Santa and his merry elves with pictures printed out as a keepsake.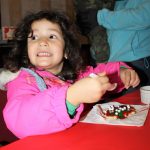 ACTS hosted a basket raffle, free cookie decorating, and a living Nativity.  Horse drawn wagon rides traveled around the Town Park and kids enjoyed pony rides and a petting zoo. The Alden Chamber of Commerce grilled hot dogs and sold chips and beverages to hungry attendees. Free hot chocolate was available courtesy of the Alden Chamber of Commerce in memory of the Alden Lions Club.  St. Aidan's Episcopal Church gave out free samples of hot chili and collected goods for the Alden/Marilla Food Pantry.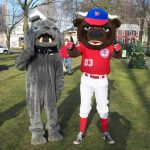 Gillen's Expert Auto sponsored fun kids' games in Bandstand Park and awarded little prizes to participants.  Buffalo Bison's mascot Buster Bison, Buffalo Sabres' mascot Sabretooth , Alden High School's Brenner the Bulldog and Waffles the Pink cow of The Pink Cow, strolled the park giving out high-fives and hugs and posing with kids for some fun photo opportunities. The Legion Hall housed a Holiday Marketplace full of unique Christmas gifts.  The Pink Cow sold ornaments, Pink Cow merchandise, and home-made ice cream sandwiches with all proceeds benefitting Meals on Wheels. The Alden Historical Society was also open for visiting with a bake sale and children's Christmas stories were read at the Ewell Free Library.  Many Alden businesses offered special discounts and free refreshments.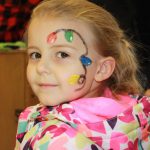 In the Community Center, the Alden Town Recreation Department had children's crafts and face painting and the Alden Art Club displayed many beautiful works of art and raffled off one original piece to a lucky winner.New this year was the Yule Log warming pit in Firemen's Park, along with s'mores courtesy of Parkside Cupcakes.  Ten trees in a "Welcome to Bedford Falls" street-scape  were beautifully decorated by area non-profit organizations.The trees and organizations were announced and lit one by one.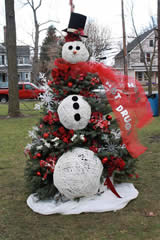 Winners of the tree decorating contest were as follows: 1st place judges' vote was the Alden Substance Abuse Coalition; 1st place popular vote was Girl Scout Troop 31165; 2nd place judges' vote was Alden High School Student Congress and 2nd place popular vote was Cub Scout Pack 160; 3rd place judges' vote was a tie between Alden Jr. Football & Cheer and Cub Scout Pack 117, and finally 3rd place popular vote was Cub Scout Pack 117.  Honorable Mentions were awarded to Grace in Community Church, Alden Youth Baseball, Alden Christian Theatre Society, and Alden High School Youth Against Cancer.  The tree judges were former Town Supervisor Bud Milligan, Village Trustee Mike Green, and Conrad Borucki, Alden's 2016 Distinguished Citizen of the Year.  A portion of the trees were donated by The Koller Tree Farm, Kate's Country Cousin's Farm Market and Gullo's Garden Center; the remaining trees were purchased from Adam's Nurseries.  The day concluded with ACTS presenting its opening night performance of "It's a Wonderful Life".
The Alden Chamber of Commerce, the Alden Town Recreation Department, CMK Builders, Gillen's Expert Auto, Bene-Care Agency, Alden Pharmacy, Crosby's Mart, Drogi & Sons Automotive and Alden Lanes & Cooker Dan's Bar and Grill all sponsored Christmas in the Park 2017. The Alden Chamber of Commerce would like to thank all of the sponsors, non-profit organizations, and businesses who participated and volunteered time, talent, and treasure to help make this annual event another successful and enjoyable day for our Alden community.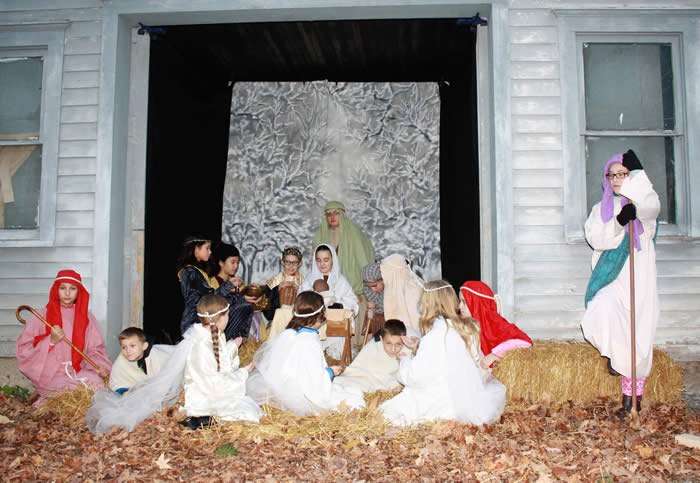 More scenes from the free fun family event:
HOLIDAY LIGHTING CONTEST 2017
Members of the Alden Chamber of Commerce recently had a pleasant drive around the Village and Town of Alden for the annual judging of the Chamber's Business and Residential Lighting & Decorating Contest. There were so many beautiful displays, it was difficult for the judges to decide. The Chamber thanks all participants in this year's contest and appreciates everyone's efforts to help make our community beautiful during the holiday season.
For the residential entries, first place was awarded to: Jackie and Jeff Mullins, 52 Two Rod Road. Second prize was awarded to Terry Scutt, 11714 Westwood Road; and third place went to Darlene Kramer, 12247 South Blossom Lea.   All residential prizes are awarded in Alden Chamber of Commerce Gift Certificates.  This event was generously sponsored by Cooke & Steffan Attorneys.   We also thank the many businesses in the Village and Town that decorated in the spirit of the season.